"Mommy Like."
Buyers looking for a smart choice in the minivan segment will undoubtedly find themselves considering the 2014 Toyota Sienna. Since its introduction in 1998, the Sienna has won over families with its versatility, features, safety record and...
Read This Article>

The hybrid you love, now with a plug.
The 2013 Toyota Prius Plug-in hybrid lives halfway between a full electric car and a traditional hybrid. Relative to the regular Prius, the Plug-in can travel farther on full electric propulsion, thus improving fuel economy. Body Style ...
Read This Article>

Supporting Our Community With Loving Care Toyota Carlsbad is looking to award four charitable organizations in our area with a $2500 contribution that will potentially be matched by Toyota USA for a total donation of $5000 per charity. Over...
Read This Article>

Try Before You Buy!
What better way to escape to your favorite weekend get-away than in a new Toyota? Our Toyota Rent A Car program (TRAC) allows you to take many of our most popular models out for an extended spin, giving you the opportunity to try out a new...
Read This Article>

Congratulations to our Toyota Carlsbad Collision Center September Winners of our Ruth's Chris gift card drawing! Maryanne and Lew are pictured here with their Collision Estimator, Kirk Fujimoto. Though a collision is never a fun experience,...
Read This Article>
This past weekend we drove up the I-5 to check out the new rides on display at the Orange County Auto show. What a fun event, for 5 hours we were surrounded by people who loved cars almost as much as we do! Toyota USA had a great presence, showcasing the all new 2014 Corolla as well as the 2014 Tundra (1794 Edition). We even got the see two 2014 Highlander prototypes… the Sponge Bob Square Pants version and a slightly more road friendly silver-toned model. The Rav4 EV display showcased the inner-workings of this electric vehicle. The Prius Line-up made an appearance as well as the M&M Kyle Busch car! Scion celebrated it's 10th birthday with a celebration of variety of well-wishers oo-ing and ahh-ing over the FR-S. Love that car!
Check out some of our favorite photos on our blog:
http://www.toyotacarlsbad.com/blogs/404/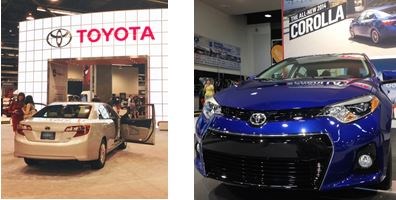 Add a little homemade flair this year
Skip the local Halloween costume store and use a little creativity to fashion an original superhero, cheerleader, dancer and more.
Read This Article>
Subscribe Now!
Sign up today to receive your monthly newsletter.
Driving Directions
Sales Dept. Hours
Mon-Fri: 8:00 am - 9:00 pm
Sat: 8:00 am - 7:00 pm
Sun: 10:00 am - 7:00 pm
Service Dept. Hours
Mon-Fri: 7:00 am - 7:00 pm
Sat: 7:00 am - 6:00 pm